Discovering chemicals
Global trading without barriers and borders
ATLAS CHEM has an unique expertise to discover emerging opportunities in the main markets of its presence. We provide our partners and clients with wind range of services globally.
30 years' experience on the market
Long term contracts with suppliers
Wide range of products
Reliable counterparties
Atlas' business model is to simplify the complexities of global supply chains at the petrochemicals market. For more than 25 years we have been discovering and opening opportunities for joint development with our partners and customers from all around the world. Our commitment is to provide clients with seamless door-to-door service that clearly focus on customer's satisfaction.
International Team
Our team members are well experienced in the industry, and have acquired a deep understanding of their specialist product markets. Team members also specialized all over the world as different kind cultural business models.
Long-term agreements
We created Long-term relationships with suppliers and service companies with 30 years experiences as we ensure supply guarantees and competitively right prices
Variety of product portfolio
We have a wide range of products with worldwide agreements from the leading petrochemical producers
Extra services
We offer well-structured operational and financial managements by using factoring, hedging and insurance
products
40
Clients
250
Beginning to end
services
We design our businesses up to our customers' needs. Our main goal is to give full services to out customer to create extra value for their supply chain.
Contracted purchases
We have long-term contracts with prestigious petrochemical producers and refineries. We use financial tools and logistical solutions to have sustainable supplies
Storage of products
We have storage capacity with tanks in terminals Arkem B.V. (Holland), Solventas (Turkey), Safiport (Turkey)
Proper Drumming
We provide different kind of solutions to our business partners with our drumming system as we work with any volumes and businesses of any size, and ship them in batches of the sizes that customers need
Fast Delivery
We are very strong for logistics as having flexibility with agreements of service provider companied which we have relations ship for long time. Petrochemicals are delivered all over the world by sea, by rail, by trucks, including door-to-door delivery.
Financial aid
We guide our customers for financial perspective with working reliable risk management insurance companies. We also have the financial expertise and funds to operate effectively in volatile markets
International
perspective
We use our infrastructure to give smooth service to our business partner with global presence, market inelegance and logistics capabilities to design effective trade
Hong Kong
Room 1803, 18/F, Lucky Centre no. 165-171 Wan Chai Road, Wan Chai, Hong Kong
+85225925995
India
Representative office in India has been distributing products in India, Pakistan and the Middle East and has been actively developing sales in recent years.
605, Aura Biplex, Opp Sumer Nagar, Above Kalyan Jewllers, Borivali West - 400092, Mumbai, India
+91 22 28056657 / +91 22 28056658
Turkey
Representative office in Turkey is in Istanbul and has distributions of products as Acetone Butyl Acrylate, Glacial Acrylic Acid, Ethanol, Isobutonol, N-Butanol, Styrene Monomer, Vinyl Acetate Monomer, and others) in Turkey, Balkans and CIS countries. We rent tanks in Gebze using as hub to make distribution of products.
Büyükdere Caddesi, No: 127, Astoria Kuleleri, Astoria Avm, B Blok 20. Kat Daire: 2003 Posta Kodu: 34394, Esentepe, Şişli, İstanbul, Türkiye
+90 535 208 84 04
Switzerland
Atlas Chem AG is in Zug, Switzerland and has activity of direct sales and distribution using reputable Swiss trade finance banks, we rent tanks in Rotterdam to develop distribution of Butyl Acrylate, Styrene Monomer, and other products.
Bahnhofstrasse 29, 6300 Zug, Switzerland
+41415510015
Our clients are strategic players in their respective markets. They rely on us to deliver good quality goods at the right time to the right place.





Atlas Chem is experienced and reliable supplier. Our main target to add value to our business partners
Atlas Chem Team
Atlas Chem portfolio has a variety of products. We have long term contracts with reputable petrochemical manufacturers all over the world.
Dioctyl Terephthalate (DOTP)
Methyl Tert-Butyl Ether (MTBE)
Atlas Chem is an official trading partner of LPG reloading terminal Manzhouli Far East Gases Co. Ltd. which is located at the Zabaykalsk-Manchuria railway border crossing. The terminal is the only large-scale reloading facility for LPG export from the Russian Federation to China. The terminal started into operations in August 2019, current capacity is one million tons per year, by the end of 2024, the total annual capacity of the terminal will reach 3 million tons.
First stage capacity
1.0 million tons of LPG per year:
10 transit spherical tanks, 2000 m3 each
2 raliway lines (1520 and 1435 mm) with a total length of 5.8 km
Loading and unloading ramp of 840 meters long for 117
30 places for automatic loading of trucks
Second stage capacity
2.0 million tons of LPG per year:
12 transit spherical tanks, 2000m3 each
2 additional railway lines with a wide track of 1520 mm
Additional loading and unloading ramp of 840 meters long for 117 RTCs
Construction start date - Q2 2023
Completion date - Q4 2024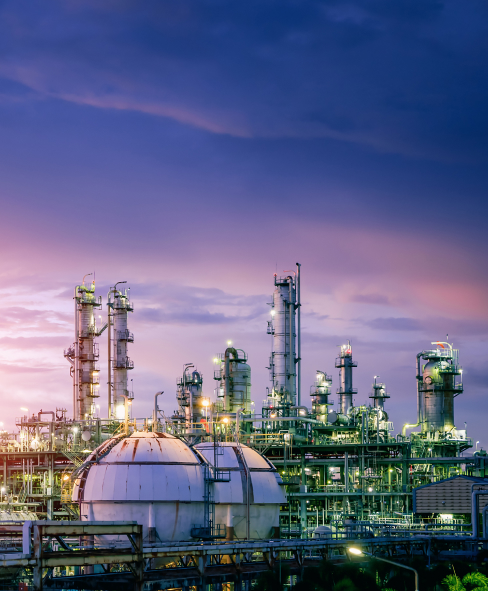 Most of our traders have more than 15 years of experience in the industry and have good understanding of their product markets specialities. Our multinational culture enables our employees to find creative solutions and make decisions. No challenge is too hard to tackle, that is how we do discovering.
Back Office

Operations manager

Manage the product, documentation and payment flow to customers, suppliers, and freight providers for the physical trades of the assigned Trading Desk.
Plan and direct tank containers loading and discharge operations with freight forwarders and determine suitability of transportation offered, including review of prior cargoes, tank conditions, and materials of construction to ensure safe carriage of product that meets customer specifications.
Maintain accurate data in ERP system as per company policy.
Ensure the import and export customs processes of the products traded are managed efficiently.
Look for ways to improve processes, maximize performance, and reduce costs.
Coordinate with various departments internally to understand financial, credit, and compliance requirements related to individual trades.
Negotiate rates with third party logistics and inspection service providers.
Communicate shipment detail with local and international teams.
Develop and manage relationships with key suppliers, customers, and service providers to ensure an effective execution of physical bulk and containerized trade operations.

Worldwide

Senior Commodity Trader

Generate sales, achieve targets and payment collections within timeline for the assigned region.
Manage, retain and grow sales, increase market share by scouting for new customers.
Develop and manage customer relationships to drive revenue growth.
Identify new markets and business opportunities.
Negotiate the terms of contract and close sales deals.
Gather market intelligence, competitors' activities and provide feedback on buying/price trends.
Forecast and prepare budget, achieving targets as per budget.
Responsible for managing regular order flow as per budget.
Maintain relationships with clients by providing support, information and guidance.
Visit potential customers on regular basis to generate new business.
Identify product improvements by remaining current on industry trends and market activities.
Prepare reports by collecting, analyzing and summarizing information.
Maintain quality service by establishing and enforcing organizational standards.
Maintain technical knowledge by attending workshops and establishing personal networks.
Contribute to team efforts by accomplishing related results as needed.
Please fill in our contact details below to reach us. If you have an inquiry about our products, please request the price in the Products sections and specify the product, the quantity, the destination and transportation conditions in the contact form. We will contact you as soon as possible.
Hong Kong
Atlas Chem (HK) Limited
+85225925995
Room 1803, 18/F, Lucky Centre no. 165-171 Wan Chai Road, Wan Chai, Hong Kong
India , Mumbai
Representative office
+91 22 28056657 / +91 22 28056658
605, Aura Biplex, Opp Sumer Nagar, Above Kalyan Jewllers, Borivali West - 400092, Mumbai, India
Turkey , Istanbul
Representative office
+90 535 208 84 04
Büyükdere Caddesi, No: 127, Astoria Kuleleri, Astoria Avm, B Blok 20. Kat Daire: 2003 Posta Kodu: 34394, Esentepe, Şişli, İstanbul, Türkiye
Switzerland , Zug
Atlas Chem AG
+41415510015
Bahnhofstrasse 29, 6300 Zug, Switzerland